Thermometer RELSIB WT50 works with smartphones with OS Android 5.0 and higher. Go to GooglePlay and type "relsib" in the search box. Select "THERMOMETER SMART FAMILY" and "THERMOMETER TERMOSHA" from the list of our apps and install them to your phone.
THERMOMETER SMART FAMILY
THERMOMETER SMART FAMILY app operates in one of 2 modes: Medical and Universal.
In Medical mode one can view maximum temperature from the beginning of measurement, current temperature and predicted temperature. When measuring is finished, the measured value is recorded to the memory.
Universal is designed for long-term temperature monitoring. Also it has an option of setting 2 alarm thresholds. This mode is very convenient when the patient's temperature is very high and it is important to monitor its dynamics. This mode is also suitable for non-medical applications of the thermometer.
App features
Medical mode
• indication of maximum temperature from the beginning of measurement, current and predicted temperatures;
• indication of temperature in degrees Celsius and Fahrenheit;
• mode for visually impaired people;
• storage of measured values by date and time;
• option of data indication from 10 and more thermometers.
Universal mode
• indication of maximum and minimum temperatures from the beginning of measurement;
• setting upper and lower threshold values and alarm giving warnings when temperature starts to exceed the set thresholds;
• simultaneous use of 10 RELSIB WT50 thermometers; individual profile is created in the app for every device;
• temperature monitoring, history maintenance in chronological order and its emailing;
• temperature dynamics display in the form of a diagram.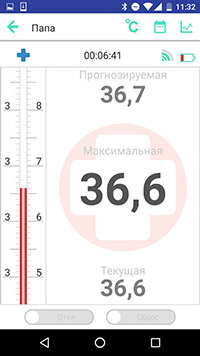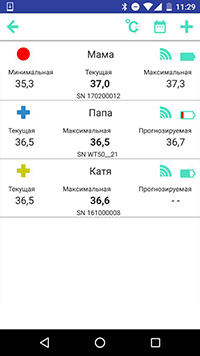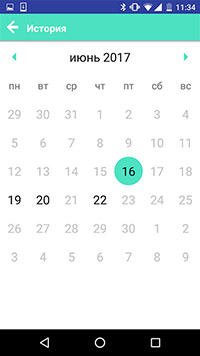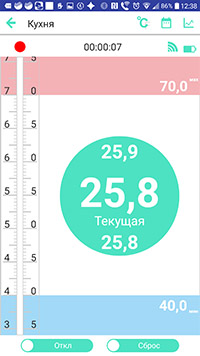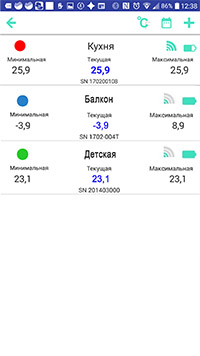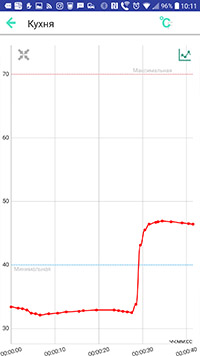 THERMOMETER TERMOSHA
Mobile app Thermometer Termosha is designed specifically for taking kids' temperature.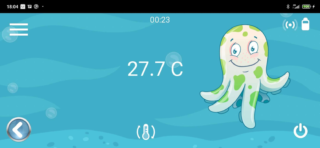 Termosha is the name of a funny baby octopus that will help to turn boring and unamusing process of measurement into a funny game for a kid. Little funny baby octopus Termosha will show his house and introduce the kid to his mom and dad. The baby will play with Termosha with great relish and will not even notice how quickly the time has passed!
And if temperature is higher than normal, by personal example Termosha will show to your baby what to do: get into bed, take medicine that parents will give to him, sponge down. Often kids listen to their favorite characters better and parents will not have to make efforts to persuade their kid.
Personal accounts can be created for every family member in the mobile app, where one can view measurement data of each account from the date when the app was installed.
The mobile app also gathers statistics of illnesses on every family member by years.
Measured values can be sent to three different addresses via push notifications. Both sender and recipients of push notifications have a notification history.
To switch from the Russian version to the English one and vice versa, change system language in your phone settings.
App features
• indication of maximum temperature from the beginning of measurement and predicted temperature;
• visual display of measured temperature for kids;
• separate measurement history for every family member;
• illness statistics gathering by years;
• push messages about measured temperature to three addresses;
• animation for kids.