1. Installation and connection
Remove the bracket off the device pressing the bracket down with your fingers and pulling it down.
Choose a location in the room for installing the meter and fix the bracket to the wall using the two supplied anchors and screws.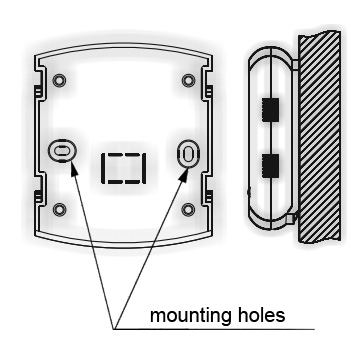 3. Make a channel for hidden wiring or install a cable duct between the installation site of the appliance and the switching unit.
4. Route the cable in the cable duct.
5. Connect the cable to the clip connector in the battery compartment of the meter, but at first you should press out the perforated window in the bracket of the meter. When using the meter with a load control unit connected, it is NOT RECOMMENDED to install the battery compartment cover and batteries in the meter, which are recommended for using the meter in stand-alone mode for express control of air quality in various rooms. It is recommended to use a colored cable for an easier connection.
6. Install the meter in the wall-mounted bracket.
7. Connect the cable to the clips of the load control unit.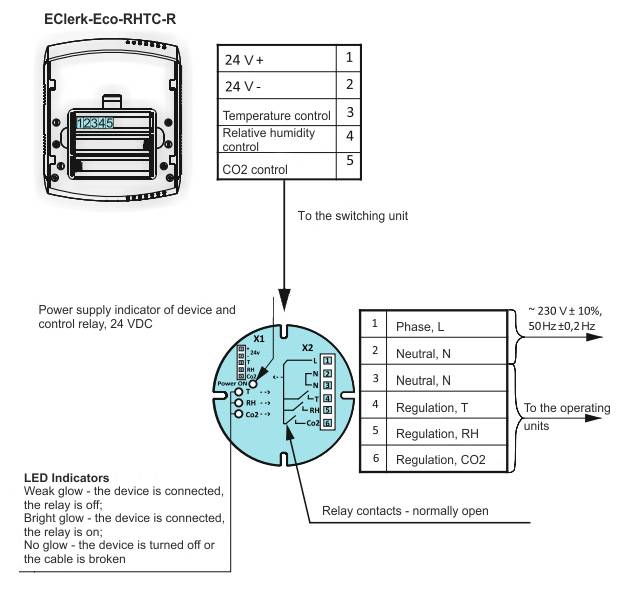 8. Connect the AC power cord to the load control unit after disconnecting the supply voltage.
9. Connect the power supply wires for external loads, such as outlets for connecting external control devices, to the load control unit.
10. Place the load control unit into the socket box and secure with screws.
11. Turn on the AC power.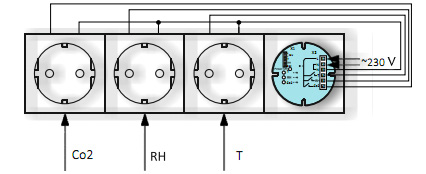 2. Setup
Entering the setup mode is carried out by long pressing the M button.
The upper line displays the previously set upper temperature threshold.
Use the "Up" – "Down" arrow buttons to set the desired value.
Press the M button, the set parameter enters the memory of the meter, and the meter goes on to set the next parameter.
Set the upper and lower thresholds for all measured parameters.
Press the M button to enter the next current time setting mode. Set the time using the Up – Down arrow buttons, then press M.
The meter will switch to the mode of enabling / disabling the sound alarm: on – enabled, off – disabled. Select a mode and press M.